Pet Grooming Is Essential to Overall Pet Care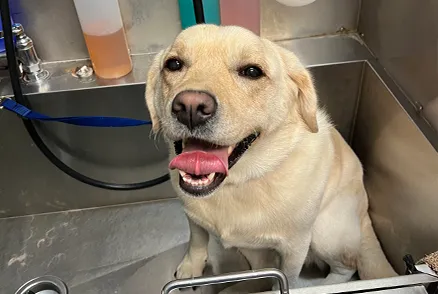 As a caring pet owner, you understand that your furry friend's well-being goes beyond vaccinations and check-ups. Pet grooming is more than a luxury; it's a vital part of keeping them healthy, happy, and beautiful. Plus, it can help our groomers spot potential issues like growths or sores.
Regular pet grooming appointments also serve as a self-care boost for your pet. When they have less excess fur to contend with, they can better tend to their own grooming needs.
Pet Grooming Is a Moderate Luxury and So Much More
Pet grooming is considered to be more than extravagant dog and cat spa days. And besides, what's wrong with pets getting some extra TLC at the hands of a caring professional? They love the feeling of a good dander-loosening brushing, just like anyone else. The nail trimming portion is another story, but we work to make it as comfortable as possible.
More than anything, pet grooming shows that you love your pet and want to keep them feeling and looking their best.
Pet Grooming Services We Proudly Offer
Animal Wellness Centre of Wesley Chapel offers a basic list of pet grooming services, including:
Tick and flea baths and other treatments
Post-bath blow dry and brush out
Nail trimming and filing
Ear cleaning and excessive hair removal
Sanitary trimming
Anal glands extraction
For full-service grooming, contact The Groom Room at (813) 994-2223
Is It Time to Schedule Your Pet's Next Grooming Appointment?
Is your dog starting to smell fishy? Is your cat spending more time clawing your favorite chair than usual? It may be the right time to schedule your next pet grooming appointment by calling us at (813) 991-6126.